We can alleviate pain by injecting local anesthetics to nerve conduction pathways. If pain continues for a long time, a lot of excessive tension is exerted on sensory nerves such as the motor nerves. The body's blood circulation becomes poorer and causes muscles to tense up, which results in more pain and thus falling into a vicious cycle of pain.
Nerve blocking stops this vicious cycle and improves the blood flow within the damaged area. It normally lasts for approximately an hour, though blood flow improves by then and thus pain is reduced afterwards and symptoms improve. There are different therapeutic effects depending on the individual. Since it is difficult to remove all of the pain with one treatment, we recommend repeated treatments for better results.
1. Stellate Ganglion Block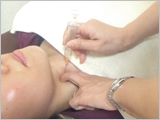 This is an injection of local anesthetics in the sympathetic nerve tissue within the neck. It temporarily loosens the sympathetic nerves, which increases self-healing, improves blood circulation in the dominant region of the sympathetic nerve and helps recover various organs with reduced functionality. It also helps balance autonomic nervous hormone secretion, improves immunity (resistance), and useful for a variety of symptoms and illnesses.
Targeted diseases:
Cervical disease, post-herpetic neuralgia, trigeminal neuralgia, etc.
2. epidural block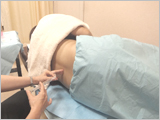 It is injection of local anesthetics in a place called the epidural space in the epidural lumbar vertebrae (spine) to temporarily relieve pain. It also increases the self-healing power to improve the lumbar region's blood circulation and lower extremities. Injection takes places just on the outermost membrane that envelops the nerve (dura mater) as the needle is not inserted into the nerve for a pain free injection.
Targeted diseases:
Herniated disc, intervertebral stenosis, post-herpetic neuralgia, etc.
3. suprascapular nerve block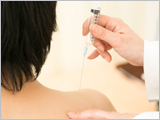 This injection is injected at the usual injection location at the suprascapular nerve in the shoulder. The Head of the humerus that is attached to the shoulder bone has a tendon connecting them. In order to relieve pain in the shoulder joint and its surrounding area, local anesthetics is injected around the scapular nerves governing this tendon, which would improve shoulder movement.
Targeted diseases:
Cervicobrachial Syndrome, Shoulder periarthritis, frozen shoulder, etc.
4. trigger block (Lumbar sympathetic block)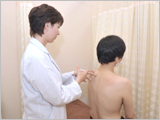 Trigger blocks pain in areas under pressure and these locations are referred as "trigger points". We inject local anesthetics in these locations to temporarily relieve pain.
Targeted diseases:
Low back pain, stiff neck, and adapt to the pain in general, such as post-herpetic neuralgia