General Dermatology, Aesthetic Cosmetic/Plastic Surgery Anesthesiology Herbal treatments

Placenta injection
Placenta is the epitome of anti-aging treatment, which is recognized not only by the skincare industry but also the general public for its benefits. Our Placenta solution is extracted directly from the ample by a syringe. It is also beneficial to those with hay fever or very dry skin.

Garlic Placenta injection
This injection is ideal for those with skin problems that develop over the years such as blemishes, a lack of shine and sagging skin. It is also very effective in improving your overall health such as daily physical fatigue, eye strain and also unpleasant symptoms associated with menopause. In our clinic, we provide intravenous injections with placenta mixed with various vitamins such as vitamin b2 and b12. This affordable anti-aging treatment is also known for its speedy results in fatigue recovery.

Vitamin Cocktail Injections
Vitamins are essential to maintaining healthy skin. Our vitamin Cocktail Injections includes placenta as well as a selective mixture of vitamin C with whiting and anti-oxidative properties, vitamin H's biotin for the skin and hair, or therapeutic agents like Transimin for Melasma. Periodic injections are recommended to maintain healthier skin conditions. It is also used on those with damaged skin from extensive ultraviolet ray exposure.

Glutathione injections
Glutathione is an antioxidant that distributes three amino acids known as "tripeptide" found in the body. This strong antioxidant protects our cells from reactive oxygen species like free radicals which causes oxidation. The body generally has a lower amount of it when a person reaches their early 20s. This is currently used in a number of different treatments for its low possibility of side effects. It is effective against allergies, asthma, Urticaria (rash/hives), and chronic liver disease related to the immune, as well as Melasma and pigmentation issues from inflammation of the skin.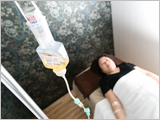 Anti-Aging Intravenous Drip
The anti-aging drip treatment takes approximately 30 minutes to 1 hour to complete. It is also possible to receive this treatment during your time receiving other services in the beauty clinic. Please feel free to consult with us during any treatments.

Myers cocktail injection
Vitamins and minerals are necessary nutrients to the human body; Specifically, vitamin B and magnesium can preeminently help with fatigue recovery. There are no side effects whatsoever and the injection takes about 30 minutes so feel free to let us know of your if you have any fatigue concerns.
About Myers cocktail infusion therapy
"Myers cocktail" is a vitamin infusion mixture founded by the United States' Dr. John Myers, an infusion he used in his ongoing medical practice for chronic fatigue, asthma, and depression for more than 30 years. ・・・more »

Highly concentrated vitamin C drip
We use vitamin C that is 25 times more potent than the usual orally-consumed dosage with strong anti-oxidant properties. In addition to the skin clarifying benefits, it also helps free your body from damaging chemicals.
Highly concentrated vitamin C drips for anti-oxidative benefits
Vitamin C is known to have whitening and antiviral and anti-allergic effects as well as anti-oxidative and anti-cancer properties. Rather than consuming it orally, the drip increases blood levels by removing active oxygen. ・・・more »