General Dermatology, Aesthetic Cosmetic/Plastic Surgery Anesthesiology Herbal treatments
Skincare Products
With Dr.Hitosugi's supervision and the carful selection of high-quality ingredients, we are please to present you our healthy skincare products that is only available at our skincare clinic.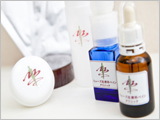 Doctors Cosmetics
These original products are only available at our clinic. Under the supervision of the head doctor Dr. Hitosugi, high quality ingredients were carefully selected and used to combine highly effective elements in high concentrations.
Keeping in mind those with sensitive skin, each product are carefully produced fragrance-free with the minimalist of preservatives possible. Other than the UV cream, be sure to store these products in a cool, dark place to avoid quality deterioration and degeneration.


The cosmetic doctor's "Skin Treatment Labo" series is available for purchase by mail order. Centered through a skincare physician's expertise, these supplements and skincare products were jointly developed by pharmacists and medical workers so feel free to try them out.
Cleansing Soap


While removing the finest of dirt and dead skin on the epidermis with a rich foam, it improves the elasticity and clarity of your skin.

Moist Plus Toner


A blend with 5% of placenta and 10% of hyaluronic acid; It balances the skin with a clean sensation.

Moist plus Essence Cream


An all-in-one essence cream that integrates serum and moisturizer containing rich beauty ingredients that quickly conditions your skin with ideal elasticity and shine.

Liven up your body from within! It supports the body by vitalizing it. This supplement improves the skin's beauty and health. 20 capsules and 60 capsules sizes are available.

Peeling Soap Bar

This soup bar includes lavender oil (promotes cell growth) to help shed dead skin, especially great for oily, acne-prone skin

Deodorant soap

This soap was designed for backs with acne and those with sweat and odor concerns.Rose clay removes and cleans Dirt Clogged in pores, the mint provides a refreshing feel and anti-bacterial properties and the included Persimmon leaves with tannin produces a deodorizing and astringent effect.

Clay Pack

This clay absorbs any excess oils, removes any debris and dirt while adding essential minerals to the skin. The natural rose sent helps relaxation and it can be applied to both the face and body.

Anti-Aging Nano Serum

High dosages of Hyaluronic acid and Placenta coenzymes were added during the compounding stage to create this highly moisturizing serum with deep hydration properties.

Anti-Aging Mask

Anti-Aging Serum Nano course, moisturizing care in a pack containing a combination of similar ingredients and, it is recommended in order to bring out the effect than as aftercare of laser treatment.With the same ingredients used in the Anti-Aging Nano Serum, This facial mask provides intensive moisturization and moisture retention to the skin. It is also highly used to bring out the most effective and best aftercare in laser treatments.

Whitening Essence

A serum with a highly concentrated vitamin c derivative removes melanin pigmentations, blemishes, sterilizes acne bacteria, and tightens pores.

Rich cream

In addition to the basic components of a moisturizing cream, also contains coenzyme Q10, astaxanthin, ceramide and many other ingredients for high moisture retention, a moisturizer great for those who have wrinkles and dry skin concerns.

UV Cream

This is a non-chemical product for those who have acne concerns (inflamed or colorless). Additionally, it contains SPF50 · PA +++ to protect the skin from Ultra Violet Rays

Deodorant Lotion

A lotion formulated with chloride and aluminum which decomposes body odor. It can be used on both of the feet. It is very effective with the conjunction use of the Deodorant Soap.

Acne Lotion

A lotion formulated with a lincomycin antibiotic called "Darashin". A small amount of humectants is blended into the formula, which helps prevent any excess dryness of the skin while providing optimal counter measures for acne.