General Dermatology, Aesthetic Cosmetic/Plastic Surgery Anesthesiology Herbal treatments
Phone:048-866-4112
Fax:048-866-4371
Vaccinations
Our clinic is a member of the Urawa medical Association and we provide Periodic vaccinations commissioned by the Saitama city. Please bring the necessary forms from your municipal office.
Those of suitable age would like to receive inoculations will be asked to fill out a questionnaire form and bring their "Maternal and Child health handbook" along with them to the clinic. These vaccinations can be booked through our website so feel free to use our simple online reservation system. Examinations will be by order even without a reservation. Please visit the clinic no later than 6pm for inoculations. We also provide vaccinations not covered by health insurances. They will be available upon request so please contact us in advance if this applies to you.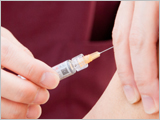 Available vaccinations
Measles rubella (MR)
Japanese encephalitis
children pneumococcus (13-valent)
influenzae type b bacteria (Hib)
three mixed (DPT)
2-kind mixed (DT)
influenza (seasonal)
inactivated polio vaccine
four combination vaccine
Heisei routine vaccination begins October 26th
Varicella disease
adult pneumococcal
Please remember to bring your Maternal and child health handbook.

Please wear easily removable clothing prompt injections.

It is recommended that you receive your inoculations when you are in good physical health.

Cervical cancer vaccine is not in stock. Please contact us if you would like one beforehand.
For influenza vaccinations
We will start vaccinations from October 2019. For more information, please follow us on Twitter.
If you would like to save some time, you can download the questionnaire required for your vaccination, print it, fill it out, and bring it to the clinic. We also accept online reservations for shorter waiting time or you may also wait in line without making a reservation.